What is Bike Wars?
In short, Bike Wars is building cool bikes out of scrap metal and old bikes, and ramming them into each other. It's like robot wars and Mad Max, but with punx and bikes. Yes, we know, we're insane. But we're guessing you're a pretty crazy fella too!
So prepare for craziness, this is Demolition Derby for people without a driver's license!
If you want to take part in Bike Wars as a competitor, just show up at the workshop during the festival and sign up! At the workshop you can build your own tall-bike, or the craziest, most rusty monster-bike, or borrow your neighbour's bike and compete in the two wheel joust-competition, and maybe win!!
Rules and categories for Bike Wars: In general either knock your opponent off their bike or destroy the bike, making it immovable. But remember, we don't like taking people to the hospital, so no pointy stuff.
Two wheels: No fucking rules!
Tall Bike: Jousting on wheels. Do not touch the ground – 3 strikes and you're out!
Monster Bike: Three wheels or more on the ground at all times, your bike is your weapon.
---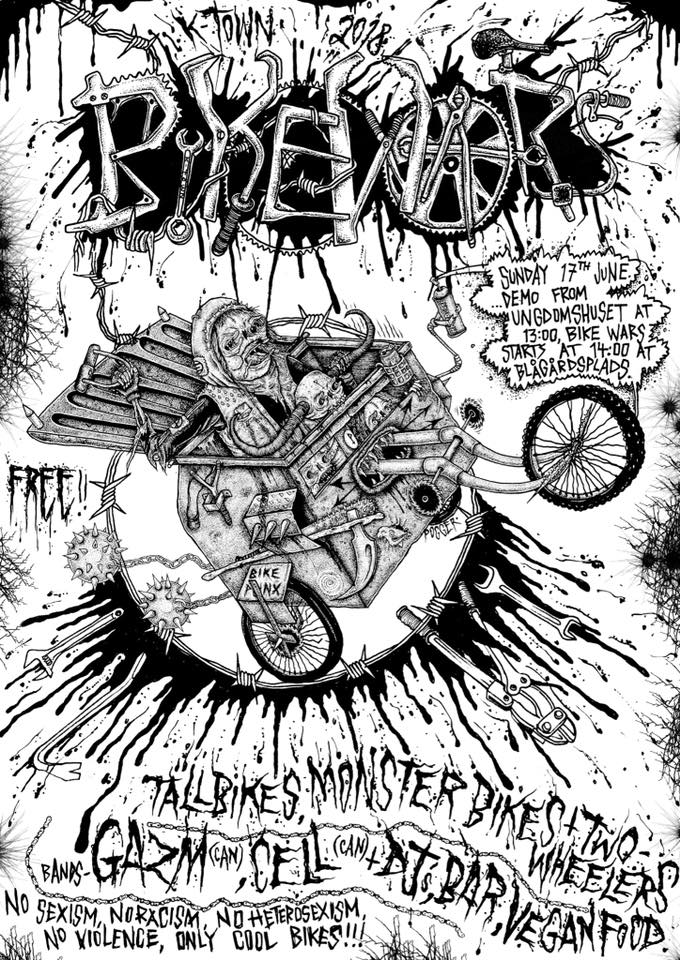 You can find more pictures of Bike Wars at our photo archive.