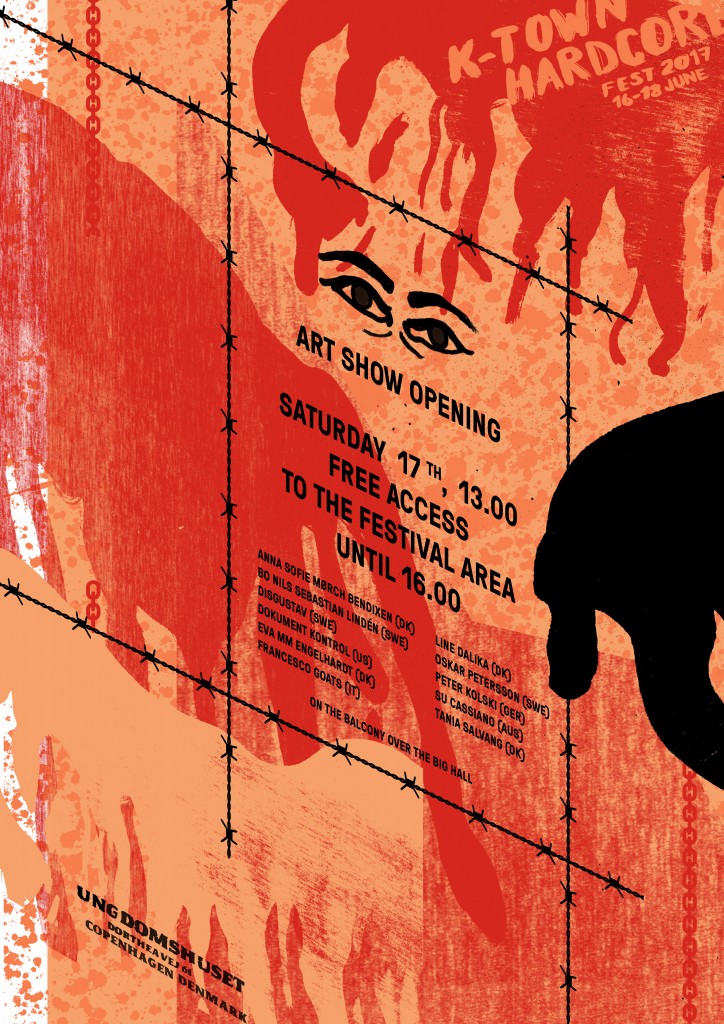 During this year's K-town hardcore fest there will be 11 artists exhibiting their work in different Areas of the festival.
Seven of them will exhibit their artwork on the balcony in the big concert hall, there will be an installation in the small room "Mit Værelse" in Dødsmaskinen and two artists will integrate their work outside in the common festival area.
The art works will be accessible during the festival, from the doors open until the end of the last concert.
To celebrate this properly we are going to have an Opening on the Saturday afternoon where the Artists are going to be present and people can have a chance to talk with them. There is free access to the festival area until 16.00, so everyone is welcome, even if you don't have a ticket for the fest.
Free Drinks for the first! Join us Saturday the 17th of June at 13.00
Opening hours
Friday 17.00-02.00
Saturday 12.00-02.00
Sunday 18.00-02.00
"Mit Værelse" will be closed after 22
ANNA SOFIE MØRCH BENDIXEN (DK)
BO NILS SEBASTIAN LINDÉN (SWE)
bonilssebastian.se
EVA MM ENGELHARDT (DK)
etc-andthemadness.dk/
FRANCESCO GOATS (it)
francescogoatgoat.tumblr.com/
GUSTAV OSCARSON (SWE)
disgustav.tumblr.com/
KEVIN MCCARTHY (US)
cargocollective.com/dokument-kontrol
LINE DALIKA (DK)
linedalika.tumblr.com/
OSKAR PETERSSON (SWE)
skrotat.blogspot.se/
PETER KOLSKI (GER)*
berlinpunk.de
SU CASSIANO
sucassiano.com
TANIA SALVANG (DK)
youtube.com